Let your middle school students develop and engineer technology that solves real-world problems with the impressive and comprehensive LEGO® MINDSTORMS® Education solutions.
Design, build and test robots that can complete complex tasks, record live data, respond to environmental changes and more. LEGO® MINDSTORMS® helps you bring technology, science and computing to life with hands-on, project-based STEM learning using best-in-class robotics. The only limit is your students' imagination.
By using hands-on robotics, students will: Produce simple sequences and commands that link cause and effect using input/output devices. Use intuitive prediction tools to gain first-hand experience in forming hypotheses. And integrate math and science using physical constraints, units of measurement, coordinate systems, min, max, mean, and linear.
Computer programming doesn't have to be complicated for your middle school students – or for you. The LEGO® MINDSTORMS® Education EV3 system takes students from coding programs via a simple drag and drop interface to developing complex algorithms. They can even create programs that interact with the real world by using input and output devices. And with time-saving lesson plans and interactive teacher notes, you can build your computer science and programming knowledge quickly.
Pada level ini, murid akan mempelajari bagaimana memberikan instruksi terhadap robot yang dibuat dengan menggunakan program sehingga robot mampu melakukan gerakan dan berkomunikasi. Murid belajar bagaimana menggerakan Motor Servo sesuai arah yang diinginkan dan menggunakan berbagai macam sensor.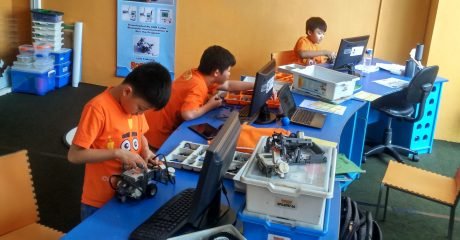 In this level, the students will learn how to give instruction to their robot using program so the robot can move and communicate. The students learn how to use Motor Servo and many kind of sensors.
Course Reviews
5 stars

0

4 stars

0

3 stars

0

2 stars

0

1 stars

0
No Reviews found for this course.